As well as Linda at

Coastal Charm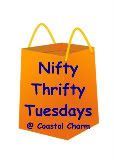 for

Nifty Thrifty Tuesday
Be sure to visit all the participants
for some great inspiration!
I found some nice pieces at T.J. Maxx to go in my kitchen.

The rooster plates were originally $8.00 but I got them for $3.00.

Woo-Hoo... I do

love

a bargain!



They make great chargers for my everyday dishes

or I can use them as platters for serving.




Now I'm kicking myself for not getting more!

I went back today & they're all gone.
These cute little covered casseroles were also on sale.


Of course, I foolishly only bought 2 of them,

thinking that I wouldn't be serving company in the kitchen.

They were all gone today, too.


The cute little plate holder below was not on sale but was only $10.00.

Using

real

plates cuts down on paper products going into our landfills.

I almost forgot about the faux lemons...

I found them at Big Lots for $7.50!

It was a good day of bargain shopping

& I have had fun trying my new found

treasures in pretty settings.

Please visit Marty & Linda to see some more pretties!

Thanks for stopping by the Gazebo House &

letting me share my fun finds with you.



fondly,