A pretty new blue basket!

Don't you just

♥ ♥ ♥

my Froo-Froo Frenchy
glazed pottery basket that
I found this week at my
favorite local antique shop?

It is

HUGE

& wait till you see how
beautifully it picks up the colors of
my Oriental rugs.

I'm joining Marty at

A Stroll Thru Life
for her

Tabletop Tuesday


As well as Linda at
Coastal Charm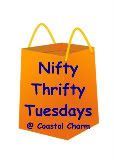 for

Nifty Thrifty Tuesday
Be sure to visit all the participants
for some great inspiration!
I am envisioning this filled with frothy white flowers,
like roses & baby's breath
as a centerpiece on the dining room table.

Look how well it picks up the blues in my rug.
I've heard that pale blues are very "

in

" this year.

Nothing pale OR blue in my garden, however.

The peonies have started to bloom &
my iris are going full steam ahead.
I love these two colors together!

Every one of these plants were

FREE

from
my wonderful sisters.
Thank you SO much, Weezie & Fritzie!
I love my gardens that you
helped to create.


These colors will have to do until I can
find some beautiful white flowers.

My friend sent me a link to an online video
explaining how you can save some peony buds
in water & keep them refrigerated for up to
6 months, then allow them to bloom when
brought to room temperature.

I've cut lots of the buds & have them stored in
about 2" of water in my garage refrigerator.
I'll be keeping my fingers crossed to see if
they will last until ... what, Thanksgiving maybe???

Wouldn't that be

wonderful

!

Here is the video clip if you'd like to try it.

Preserving Peonies

Thank you, Madeline for that link & everyone else for
visiting the Gazebo House today.
I sure wish you could smell my flowers!

fondly,