I'm joining Marty at A Stroll Thru Life
for her 3rd Tabletop Tuesday meme.

As well as Linda at Coastal Charm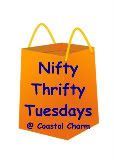 Nifty Thrify Tuesday
Be sure to visit all the participants
for some great inspiration!

I'm in full St. Patrick's Day decorating mode
this week so there are lots of

GREEN

things
to look at around The Gazebo House.
A scalloped edge teapot sits next
to a Belleek cup & saucer on the baker's rack.
It was a gift from a friend last year &
it coordinates with my
Jacquard patterned Lenox china.

Salad plates purchased at the Lenox
outlet in Sarasota, FL before they
went out of business.


I put my black, white & green quilt
on the kitchen table so
you can see the details.
This qualifies as a "tabletop" decoration, right?
LOL

I just put it there because the next picture
is so difficult to see it clearly.


I brought the quilt up from my sewing room
to display it on the back of the sofa
just to add a little

GREEN

to that room.

I wanted you to see my nifty thrifty
bargain wreath from last week
(sans purple flowers)
on the coffee table
with a mint

GREEN

candle
in a glass hurricane cylinder
from Bombay Co. (miss that store!)


It is especially difficult to photograph


towards

those big windows.


My friend Carol aka Mamacjt
made the quilt for me from my leftover
black & white fabric scraps.
(another Nifty Thrify idea)
Carol made me a matching pillow, too.
Thank you SO much, my friend!
I love them!


Here is a better picture taken by
Carol outside her home.

Sunlight makes such a difference in photos!

Thanks for visiting the Gazebo House.
Now run over to Marty's & Linda's blogs
to see all the other inspirations.

fondly,