Check out the sweet little tray I found at T. J. Maxx this week!

End of season sale & only $2.50!!!

I immediately had to fill it with something & since I had

a carton of Eggnog that I wanted to use up,

(Hubby requested I buy it & then had ONE glass & was tired of it!)

~~insert rolled eyes~~

I made this recipe I found at Cooks.com.

EGGNOG CHERRY NUTBREAD
---
2 1/2 c. flour
3/4 c. sugar
1 tsp. salt
1 tbsp. baking powder
1 egg, beaten
1 1/4 c. eggnog
1/3 c. oil
1/2 c. nuts, chopped
1/2 c. cherries, cut up
Mix dry ingredients. Add eggnog, egg and oil. Mix well. Pour into greased bread pans. (One large or two small)
Bake at 350 degrees for 50 to 60 minutes. Test center for doneness.
This made a tasty sweet treat, perfect for dessert
with a cup of coffee or tea.
As you can see, hubby got into it before I could even take a picture!

I'm joining Linda at

Coastal Charm's Nifty Thrifty Tuesdays
I also found 12 of these beautiful placemats with matching napkins on sale.


Stop back on Wed. evening & you'll see the tablescape I did with them.
Thanks to Linda for hosting & thank YOU for stopping by The Gazebo House.

Be sure to visit Linda &
all the other bargain hunters at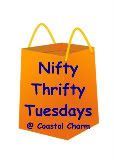 fondly,