This

entire

month

, at

The Gazebo House
we celebrate

LOVE!
We w

ill celebrate our

26

wedding anniversary,
this coming

Thursday, Feb. 14, 2013.
"Being deeply loved by someone

gives you strength,

while loving someone deeply gives you

courage."
Because the holiday falls on a school day,
I've set the dining room table for
our family to celebrate together
I've used my Churchil

l pink

willow dishes,
along with some splashes of
vintage

RED

to kick it up a notch.
I see lots of

RED

in the

pattern, don't you?
When my baby sister
moved to Maui to live,
she

blessed me with our Mother's

Depression era
etched ruby footed stemware.
I was thrilled to receive them &
will cherish & take

gentle care of them.
The glass is very thin & fragile.
I searched for information on their history & manufacturer

but

was able to find on

ly
one other

listing for similar stemware.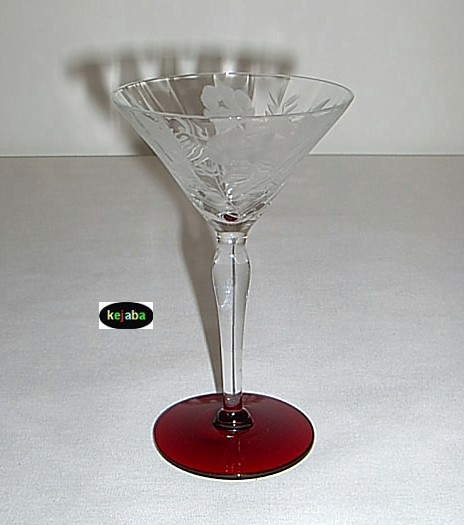 The description follows:
Quote "They all have ornate cut / etched pattern. The bowls of the stems have a panel optic pattern. I've seen ones like these as being made by the Tiffin Glass Company, the Standard Glass Company as well as the Maryland Glass Etching Works company and as being made during the Depression Era (1920s - 1930s)."
I bought the

8 stems that he had for sale,
but

unfortunately

they have not yet arrived
in time for this tablescape.
I'm sure you'll see them soon
for a different holiday...
RED

works beautif

ully

for so many occasions.
The silverware, "Danish Princess"
by Holmes & Edwards,
was introduced in 1938.
I am lucky to now have service for 12
in this delicate pattern,
The flowers are a gift from my daughter.
She knows how much I LOVE POLKA-

DOTS!
She thought the vase looked a bit like mercury glass &
I think it also resembles the hobnail pattern from the Depression era.
I have some of that to show you

on
Tuesday at Marty's Winter Cloche Party.
O

riginally

, I made a white Battenburg lace heart
with my embroidery machine,
as an accent for it, but then later switched
it for a

PINK

one I made instead.
I like it better with all the sha

des of
I made several others to scatter around the table for decoration. They are made completely in the hoop, on wash-away stabilizer which it then rinsed away to leave these intricate threads. The design has to be specifically d

igitized

as a "free standing

lace" otherwise, it will just fall apart when the stabilizer is washed out.
Taking a page from my sweet friend, Yvonne,
I added layer upon layer of various white pla

tes
with interesting edges for some contrast
All I can say is thank goodness
I've got an automatic dishwasher!
Weeks ago I p

rin

ted out my menu,
in French & then traced around it
with my Waterford crystal heart

candy dish.
I then cut it out & attached it to a lace heart shaped doily.
Next time I will cut away the center of the lace doily & adhere the printed menu to the back instead.
I think that would

look better.
Here is a close-up of the menu.
She

wa

s a French teacher in her past life

, ya' know.
She recently got some great news...
Country Sampler magazine will be featuring

her

house, all decorated for Christmas in an issue this fall! Stop by & tell her "Congratulations!"
Teacups and vintage "Quban

R

oyal" plates awa

it
dessert on the side table.
These plates are trimmed in 22K gold so
they will NOT be going in the dishwasher
!
I don't mind a bit. I enjoy taking good care
of my pretty things by hand washing them.
Th

e

faux slice of cake under the c

loche

is
really a darling pink fabric pin cushion
from my sewing friend, Carol.
She sends me the sweetest gifts.
Thank

you,

Honey! I

♥

it!
Thank YOU for stopping by "The Gazebo House" today & be sure to come back for
Marty's Winter Cloche party on Tuesday

.
I hope you have lots of

LOVE

in your life this week & always.
on Wed

nesday, Feb. 13, 2013
Come join the fun!