Fellows Riverside Gardens, located within the Mill Creek MetroPark system of Northeast Ohio, is the culmination of Elizabeth Fellows' dream to create a "...beauty spot for all to enjoy."
In 1958 Mrs. Fellows, an avid gardener, donated to Mill Creek Park the land & the money to build & maintain a free public garden.
The Fellows Riverside Garden Trust provides for the perpetual care of the garden, in memory of Mrs. Fellows' husband Benjamin's parents, Benjamin & Mary Fellows. Since its first planting in 1963, Fellows Riverside Gardens has been shaped by the generosity of many people.
Garden & plant lovers will find diverse & interesting collections such as shade, herb & rock garden plants, but the

ROSE

garden has always been my favorite section. Scenic vistas; identified trees & shrubs; & colorful seasonal displays of annuals, perennials & flowering bulbs abound.

More than just a "beauty spot," the educational mission of the Gardens is achieved through classes, tours & exhibits. I took my very first flower arranging class here more than 35 years ago. I still have the clippers & the flower frog that I bought on the premises for the class. I never throw anything away!!
Mill Creek MetroParks Fellows Riverside Gardens
The following photos were taken by a friend of my sisters,

Mr. Bryan Fay.

It is with his permission that I get to make mosaics out of them

& share them with you here.

I have not yet visited the gardens since we returned to Ohio but

I am looking forward to having lunch there with my sisters very soon!

Thank you for the use of your photos, Bryan

until I can get there to take some of my own!
Of course, I had to throw in some shots of the Gazebo there!
It is a very popular spot for wedding photographs.

This inside shot of the gazebo is the last of Brian's.

Whew...that was a lot of walking!
Sit down & rest a bit.

Thanks for visiting The Gazebo House.

I'm linking this post to

Mosaic Monday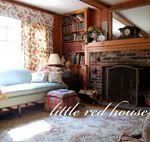 &
Thank you to Mary for hosting MM each week
on her beautiful blog

Dear Little Red House

fondly,