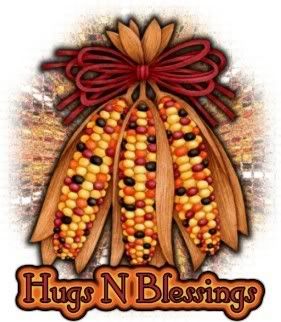 The following

Southern Living

recipe
is one I made for a recent family gathering.
(photo courtesy of Southern Living)




I intend to repeat it again for Thanksgiving, it was so good!

If I add chopped yellow & orange peppers, it will

look very appropriate for the season, too.



In order to make it work for my Vegan sister,

I kept the feta cheese off to the side
so anyone could add as much or as little as they wanted.
It is a delicious recipe & one that travels well &

holds nicely at room temperature.

A *Keeper*, for sure & I

KNOW

you'll

absolutely love it if you try it.


I've had to use the photo from the

Southern Living

site,

since I was too frazzled to remember to take pictures.
Marinated Green Beans with Tomatoes, Olives, and Feta
2 pounds fresh green beans, trimmed

1 1/2 teaspoons salt, divided

2 garlic cloves, minced

1/4 cup olive oil

1 cup Kalamata olives, sliced

2 tomatoes, seeded and chopped

2 tablespoons red wine vinegar

1 tablespoon fresh oregano, finely chopped

1/4 teaspoon pepper

2 (4-ounce) packages crumbled feta cheese

Garnish: fresh oregano sprigs
Place beans in boiling water seasoned with 1 teaspoon salt;

cook 6 to 8 minutes or until crisp-tender.

Drain.

Plunge beans into ice water to stop the cooking process.

Place in a shallow serving dish.
Cook garlic in hot oil in a skillet over medium heat 30 seconds
or just until fragrant; remove from heat.
Stir in olives, next 4 ingredients, and remaining 1/2 teaspoon salt.
Pour mixture over beans, tossing to coat.

Chill at least 3 hours or overnight.

Sprinkle with feta cheese, unless you're feeding Vegans

Garnish with fresh oregano, if desired.

Yield: Makes 8 to 10 servings
I'm joining Yvonne at StoneGable's
On The Menu Monday
as well as
Michael Lee, noted author,
on her beautiful blog
Designs by Gollum

for her Foodie Friday meme
&
The Tablescaper for her
Seasonal Sundays.



Please be sure to go see all the other wonderful contributions.
Thank you, Ladies, for hosting these parties every week.

Thanks for visiting me, too!

My arm & wrist are feeling better &
I'm honored that you would take the time
to stop by

The Gazebo House

.

Wishing you a Blessed & Grateful
"Happy Thanksgiving"